The cost-effective solution for Building Energy Management in Suzhou Industrial Park
30.11.2011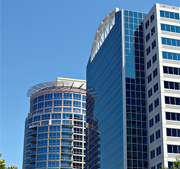 Project Introduction
Every day, a massive amount of energy is wasted on fuelling buildings. According to statistics, buildings consume 40% of all energy on our planet. Since energy efficiency is a hot issue on a global level, energy efficient buildings are becoming more and more important. However, it is not easy to implement a user-friendly, cost-effective solution for a single enterprise with clustered buildings. To monitor their energy conservation, Advantech provided web-based products to fulfill such Building Automation requirements.
System Requirements
Our client's three buildings (factory, warehouse and office) are located in Suzhou Industrial Park in mainland China. In order to complete the energy monitoring plan, this new plant needed to connect 1,500 points tocomprehensively monitor and control its facilities i.e. air conditioning units, fan coil units, inverts, electricity meters, gas meters etc. Because the system uses many devices from different vendors, there is a necessity for compatibility with the communications devices which collect the facilities' data such as temperature, humidity, voltage and power current.
Project Implementation
| | |
| --- | --- |
| WebAccess | Browser-based HMI/SCADA Software |
| BAS-3520 | 20-ch Web-enabled DDC Controller |
| BAS-3018 | 8-ch UI BACnet MS/TP Remote I/O Module |
| BAS-3024 | 4-ch UI, 4-ch AO, 4-ch DO BACnet MS/TP Remote I/O Module |
| BAS-3050 | 8-ch DI, 8-ch DO BACnet MS/TP Remote I/O Module |
| BAS-3051 | 16-ch DI BACnet MS/TP Remote I/O Module |
System Diagram
System Description
Advantech provided 30 sets of web-enabled DDC & I/O modules and the browser-based WebAccess HMI/SCADA software to satisfy our client's energy monitoring demands. WebAccess is installed on a computer in the controlcenter, offering a greater ability to integrate with third party devices, including gas meters, power meters, inverters and digital network thermostats via an RS485 Modbus to connect to a 24-port Ethernet Switch without DDC; meanwhile it features of animated graphical display, real-time data control, trends, alarms and logs enable users to easily browse the monitoring status.
This integration, directs BAS-3000 series digital controllers connected to the different devices to acquire various analog and digital signals and deliver the data to a host via a 24-port Ethernet Switch. A Direct Digital Controller (DDC) with an easy-to-use graphical programming tool can provide automotive controls such as scheduler, HVAC calculation, sequential control, PID control, alarm and messaging to achieve the saving of energy. Furthermore, the Building Energy Management System (BEMS) with the gathering of data can generate the report to assist administrators to analyze the facilities' conditions and adjust their configuration or fix the problem.
Conclusion
Efficient features may be either embedded in new buildings or added to existing buildings through energy retrofits but both of them can lessen demand on the power grid, decrease stress on gas supplies and save consumers' money. In addition, conservation and efficiency measures can be as simple as adopting Advantech's Building Automation solution for customer's multiple buildings and the customer can also save a lot of money via the communication integration features of WebAccess.