IoT + 5G + AI + 8K: New Era of Video Innovation
5.03.2018
Secret Weapon: NCG + Video Solutions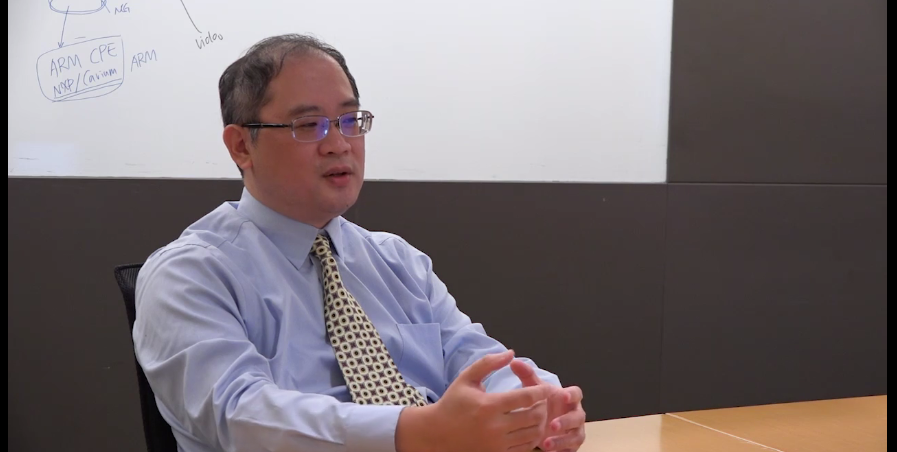 IoT, artificial intelligence (AI), 8K video, and other digital technologies are becoming prominent research fields, and they present a new frontier of competition for ICT vendors. With the imminent arrival of the 5G standard, the potential of these revolutionary technologies will be realized at an exponential speed. To obtain insights into the company's IoT solutions for the arrival of 5G, IoT.SENSE interviewed Dick Lin, Director of Advantech's Network Communication Group (NCG).
1. Could you please share with us Advantech's positioning for 5G and IoT as well as your thoughts on their applications?

From the introduction of 2G to the arrival of 5G, NCG has long been dedicated to advancing the communications industry and has cooperated with key customers to assist in the realization of many significant projects. Among the new changes to be brought about by 5G, the central processing of large volumes data from base stations will be conducted under the Cloud-RAN architecture, operated by industrial servers and virtual networks. In this market, Advantech will focus on the implementation of multi-access edge computing (MEC) technology, which will offload the burdens of Cloud-RAN operations. The short distances from MEC systems and base stations to individuals will also make achievable the low latency of <1 ms. This means that such applications as autonomous cars—which require data transmission and processing times of <10 ms—can be realized within a 5G environment.
NCG has been committed to edge computing and has accordingly developed blade server platforms for MEC and customer premise equipment (CPE). In addition to traditional x86 based products, NCG also offers low-power Arm®-based CPE product lines for network function virtualization. Additionally, NCG's Video Solutions Division (VSD) has developed a series of products to help 5G operators effectively broadcast ultra-high quality video and TV signals over mobile networks.
2. Please share Advantech's 5G/video streaming technology achievements and what pain points they can help customers solve.
With strong software and FPGA teams, Advantech's VSD has been dedicated to designing video products such as video and audio compression cards, which adopt current HEVC algorithms. These algorithms reduce the required transmission bandwidth for 4K video to below 12 Mbps and enable OTT operators to deliver 4K video and audio over limited network bandwidth.
In addition, Advantech's VSD provides cloud transcoding cards that can quickly complete transcoding within 100 ms, immediately convert FHD to different formats such as HD, VGA, or CIF, so that the same video and audio content can be played on screens of varying sizes, including televisions, computer monitors, cellphones, and tablet devices.
3. Please share Advantech's efforts and achievements in the integration of hardware and software with specific functions for Arm®-based FPGAs and ASICs
Although Arm® architecture is considered the world's leading architecture and the most widely applied for consumer devices, it is becoming increasingly more prevalent in industrial devices. NCG's remote management chip for carrier-grade servers as well as many software applications developed for video conferencing, encoders, and FPGAs are based on the Arm® platform. For example, the FPGA team from VSD has developed a new generation of video-over-IP solutions that deliver 4K/8K video at high speeds without compression or distortion.
As for ASICs, Advantech has partnered with Japan-based Socionext—a specialist in image-processing SoC design—to develop a series of high-performance, energy-efficient codec cards to facilitate implementing 4K/8K real-time image compression in various types of server application.
4. What is Advantech's next step of in developing Arm®-based FPGAs and ASICs?
Focusing on 5G edge computing architecture, Advantech NCG has been striving to develop a number of CPE products and utilize Arm® architecture to develop low-energy CPE that will help offload Cloud-RAN computing tasks to the client or intranet and to facilitate operations in virtual networks including virtual ferry networks, network function virtualization, and software-defined networks.
As for FPGA software development, NCG's VSD has been actively investing in 8K front-end technology, including HEVC encoders, video-over-IP transmission devices, and special applications such as medical applications that will enable physicians to work with VR glasses and 8K images to aid precision in invasive surgery.
5. What is the next step of Advantech in "the combination of imaging and AI"?
Nowadays, when talking about applications such as AI, machine learning, and deep learning, people tend to think about GPU technology. However, because of the disadvantages of GPUs, such as high power consumption and rapidly rising core temperatures, the industry has always sought more efficient alternatives. FPGAs have are one of the most competitive options because of such merits as the requirement of considerably less power consumption relative to GPUs and their proven support of deep learning frameworks such as TensorFlow and Caffe.
NCG's VSD division has long been cooperating with FPGA leader Xilinx and has deep FPGA development capability. NCG is actively integrating Advantech'ss VEGA SDK video platform and deep learning platform to help customers with simultaneous image analysis, video recognition, video compression, and cloud transcoding. This can assist in online advertising analysis and even the real-time analysis of live content such that inappropriate film could be removed in a timely manner.
For self-driving vehicle applications, NCG's FPGA cards enable the instant vehicle recognition, capitalizing on FPGA solutions over GPUs and thus deriving such benefits as easy up-scaling to support additional cameras while lowering power consumption and heat generation in automotive devices.