Advantech WISE-PaaS/EnSaaS 4.0 Multi-Tenant Design: a Mutually Beneficial Foundation for Apply and Demand
17.06.2020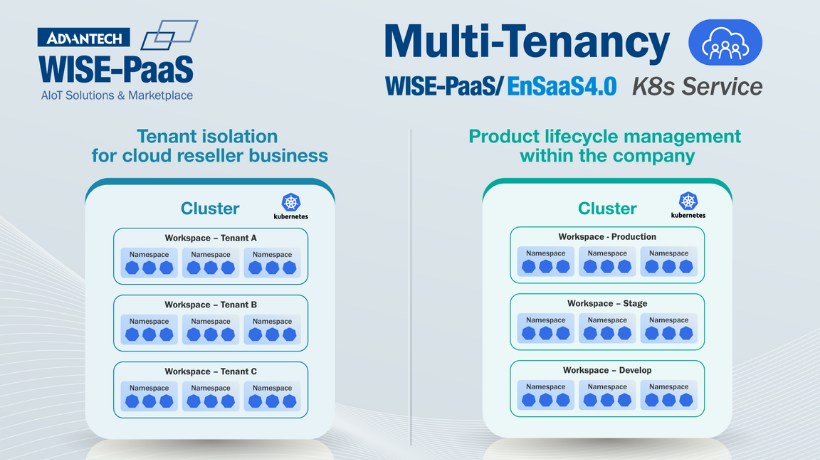 In March 2020 WISE-PaaS/EnSaaS, Advantech WISE-PaaS' core data platform, evolved from version 3.0 to 4.0 by changing its underlying architecture from Cloud Foundry to Kubernetes (K8s). Simultaneously, a new multi-tenant design, aimed at optimizing the subscription, deployment, publishing, and customization processes of Industrial Apps (Industrial App;I.App), was proposed to provide greater operational flexibility to Domain-Focused Solution Iintegrators (DFSI) and IT departments. On the previous version, EnSaaS 3.0, WISE-PaaS accounts did not support multiple cloud resource spaces. This made it difficult for SI to act as the "principal tenant". Using the products, services, and resources found on WISE-Marketplace became more difficult for end users, who had to subscribe and manage quotas themselves. This created barriers for traditional industry users inexperienced in cloud operating.
The multi-tenant mechanism features a new "subscription account" architecture added below WISE-PaaS account management. Individual subscription accounts are isolated from each other. Indeed, user management and cloud service subscription management is performed independently. Subscription account isolation enables enterprises to conveniently manage fees and subscribe to services or cloud resources for their subordinate organizations. Likewise, DFSI can manage the subscription of cloud services for different users to expand consignment or resale business.
DFSI sells or resells cloud services on a subscription basis
DFSI can act as the principal tenant using the EnSaaS 4.0 subscription account. As principal tenant, DFSI can sublet spaces to different customers and uniformly manage cloud resource allocation, monitoring, and deployment for their customers. To achieve effective utilization Principal Tenants can flexibly adjust resource use according to customer needs.
In addition, the spatial structure of Cluster, Workspace, and Namespace can be utilized according to the isolation requirements of DFSI. This aids in distinguishing both the services of different customers, and the development process stages. For example, users can divide independent spaces for development, staging, and production.
Based on access management, each Cluster contains multiple Workspaces, and each Workspace contains multiple Namespaces. Cluster owners can manage the K8s resources of its Cluster and assign roles such as Workspace Owner or Namespace Developer. The Workspace Owner can manage its K8s resources and assign the Namespace Developer role.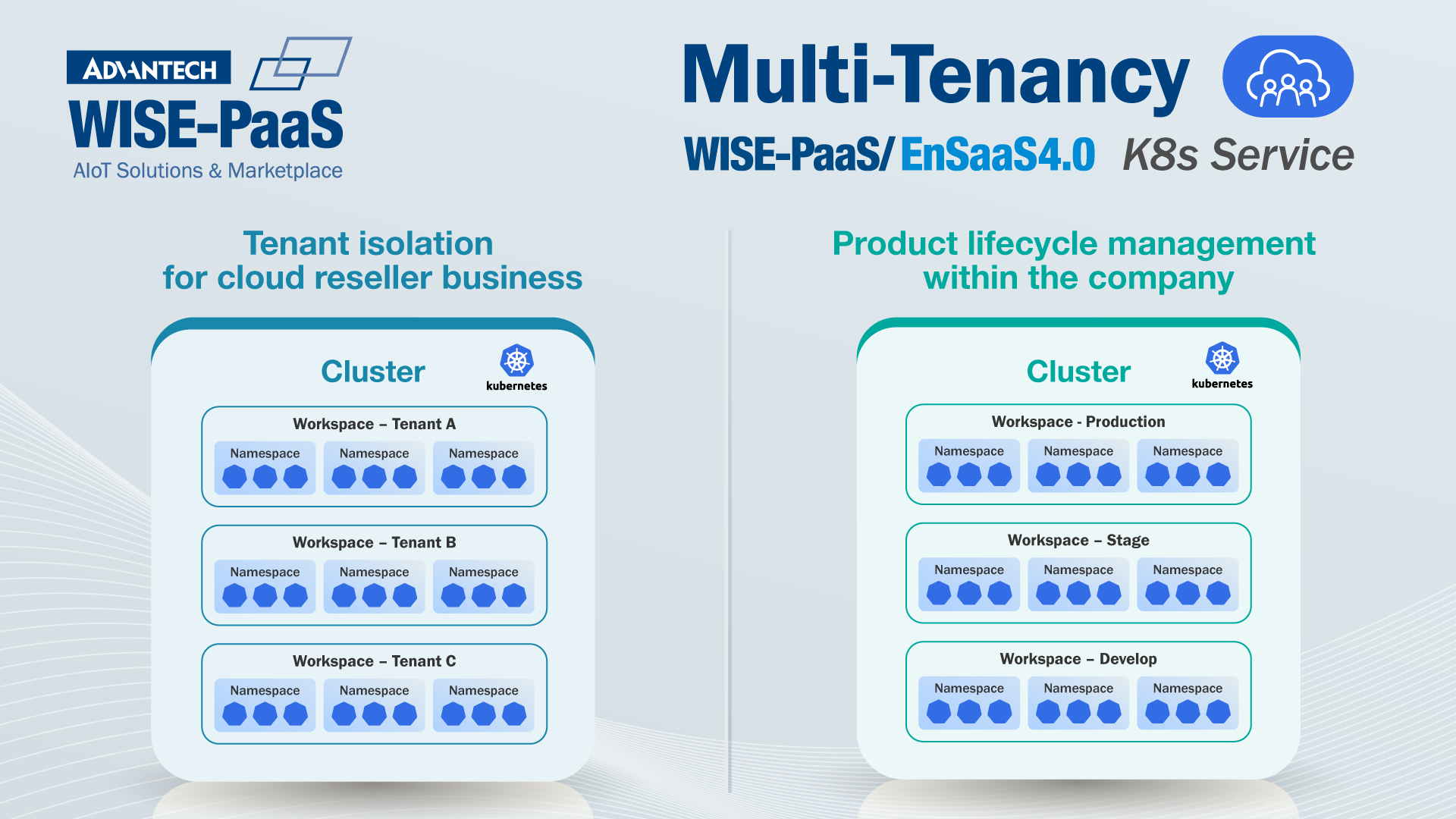 IT departments manage resources to quickly create the environments tailored to each unit
In addition to DFSI, business IT departments also benefit from the WISE-PaaS multi-tenant function. Previously, when IT departments received new requirements, they needed to reconfigure or build additional computing resources. This process was time consuming, limited management flexibility, and slowed responses. Now IT departments can manage resource allocation uniformly and flexibly deal with new projects or plans. This saves time in maintaining distributed systems. Project and development processes are accelerated by reducing concerns about resource raising and allocation.
Consider the Advantech InnoWorks Enterprise-Academia cooperation program, a one-semester solution development project. Advantech has allocated various resources through multi-tenant management based on students' project requirements. Doing practical exercises during learning stage in a Shared Workspace using an exclusive Namespace, ensures individual student operations will not affect each other.
A Workspace is configured for each student group during the solution development stage. During this stage students can develop applications in their own space, flexibly manage resources, control group member authority, and subscribe to and deploy services according to their needs. Each space layer can be gradually adjusted during the training or development stage regardless of size.
Upon completion of the Enterprise-Academia cooperation program, computing resources can be released by closing the students' Workspace, enabling flexible overall resource management. Because of this program, Advantech understands the resource usage and service subscription of individual space layers and can accurately control the overall cost of the project.
WISE-Marketplace combines SSO and multi-tenant architecture to create an industrial IoT ecosystem
WISE-PaaS collaborates with developers by turning their development achievements into building blocks for the WISE-Marketplace ecosystem. Developers seeking faster service delivery and deployment should integrate EnSaaS user management SSO services. This function integrates other services into the resulting development. Developers should also be sure users with access rights subscribe through the WISE-Marketplace. Advantech designed the subscription account management, SSO, and multi-tenant mechanism specifically for the industrial IoT app store WISE-Marketplace with the aim of encouraging business models based on the IoT ecosystem.
EnSaaS 4.0's featured multi-tenant operation will greatly influence DFSI. Effective use of the subscription account architecture enables the creation of Cluster or Workspace resale units. In order to subscribe to and manage user resource spaces and increase revenue, these units feature different specifications according to the quantity of services and resources needed in each scenario. Likewise, the system helps reduce the workload created by resource subscription, configuration, and management. This reduction enables convenient services and resources acquisition while deepening the partnership between DFSI and end users.
In addition, DFSI and IT departments can address the combined needs of multiple users simultaneously. By uniformly introducing large resources DFSI and IT departments can exploit economies of scale and enhance their bargaining power. They can also engender flexibility in resource allocation through the three-layer multi-tenant design and isolated spaces to effectively meet the application needs of different users or departments.
WISE-PaaS/EnSaaS 4.0 multi-tenant mechanism can flexibly subscribe to, configure, and manage different cloud resource spaces; benefiting all DFSI, Channel, SaaS service providers, and IT departments. By fostering flexible and diversified business operation patterns, and helping users subscribe to and manage cloud resource spaces, enterprises using WISE-PaaS/EnSaaS 4.0 can focus on innovative AIoT applications, benefiting both the supply and demand sides.
The WISE-PaaS platform end-to-cloud architecture provides a comprehensive development environment for data collection, analysis, management, and applications, while promoting interoperability between I.Apps via the WISE-Marketplace and accelerating the development of industrial solutions.
The I.App starter package provides a variety of basic services for building industrial IoT solutions, including end-to-cloud data collection, device management, 2D/3D visualization, and AI development. Try WISE-PaaS for free and experience minimal code development!